Below are examples of the caliber of rental cello available to you as a Kolstein Rental Customer. We have hundreds of instruments to choose from, but specific models are subject to availability.

Tier One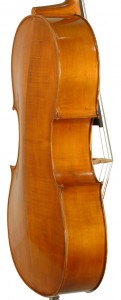 The model 100 cello outfit is available in the newly designed Strad Model. These instruments are an excellent quality cello in a most affordable student price range. These cellos offer most impressive tonal qualities and esthetics with moderately flamed backs, ribs, and necks; finely grained spruce tops; and spectacular rich, transparent varnish.
Tier Two (Elite)



The model 300 is the DiVacenza Strad cello. These finely handcrafted cellos follow the design of the master Stradivari with a delicate playing design. The woods are quite spectacular consisting of select quality seasoned spruce tops and highly figured, flamed maple backs, ribs, and necks. The fittings are Hill style pegs and tail pieces. These instruments feature a high quality, contemporary varnish that enhances the highly figured qualities of the top and back. The model 300 Strad cello features the full Kolstein hallmark setup including the Kolstein bridge, quality professional strings, and tonal and fingerboard adjustments in the Kolstein violin shop.