Below are examples of the caliber of rental bass available to you as a Kolstein Rental Customer. We have hundreds of instruments to choose from, but specific models are subject to availability.

Tier One



The newly introduced Liandro DiVacenza Model #150C is the highest quality Hybrid designed Bass. This finely crafted Bass Violin features a highly seasoned handcarved spruce top, higly flamed maple veneered laminated back and ribs. It is a bass of 3/4 size with violincorners. The back is swellback in design. The bass is finished with an antiqued deep brownish red color and has a most impressive deep, lush orchestral or jazz quality of sound. The model B150c bass is set up with all the hallmarks of the Kolstein shop including the Kolstein Adjustable Bass Bridge with ebony adjusters, full Kolstein dressing of the high quality ebony fingerboard, tonal adjustment, a Kolstein Fendt brass collar endpin with convertible carbide point-crutch tip, Kolstein VariCor Excel or Heritage bass strings, and a Kolstein deluxe padded bass bag.
Tier Two (Elite)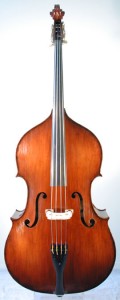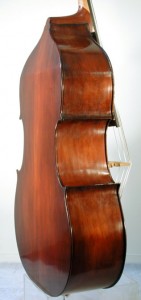 Top table is a two-piece plate of vertical grained spruce
Back table is a two-piece plate of slab-cut willow, and Ribs of matching willow to that of the back table
Scroll and neck are original of slightly figured maple, with Individual brass rococo tuning gears
Varnish is reddish brown with amber hues.
Excellent condition
Overall body length: 45 in.
Width at the upper bout: 20 1/2 in.
Width at the center bout: 15 1/2 in.
Width at the lower bout: 27 in.
Mensure (string length): 41 5/8 in.